The best Packaging Solutions
With 24 plants in 11 countries we meet our customers' highest packaging requirements.
The Future of Packaging
We deliver innovative and competitive packaging solutions for our customer supply chain.
Made for your Ideas
State of the art technology enables us to produce individual client-specific packaging solutions.
Work with us!
Would you like to work with people who are passionate about what they do?
Welcome

The best Packaging Solutions

The Future of Packaging

Made for your Ideas

Work with us!

We care for our Environment
Previous
Next
Dunapack - Corporate Social Responsibility
In the 30 years since the company was founded, Dunapack has placed significant emphasis on connecting the activities of the organizations it supports with the operation and corporate philosophy of Dunapack, emphasizing the importance of environmental protection through its supporting role.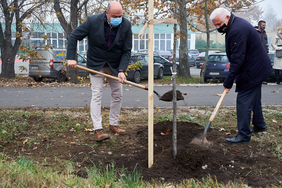 Tree planting action in Nyíregyháza
During the tree planting operation in Nyíregyháza, in cooperation with Dunapack, 30 newly planted silver linden trees and columned maples make Tünde Street greener. The occasion of the 30th jubilee of Dunapack, this initiative was launched, under which on 18 November, Managing Director Miklós Rasovszky and mayor of Nyíregyháza, Dr. Ferenc Kovács jointly planted some of the trees.
Collaboration with Hungarian Food Bank Association
As last year, we are collaborating with the Hungarian Food Bank Association related to the Christmas Fundraiser. We donated 240 boxes in which the equipment (leaflets, vests) will be delivered to the volunteers. Attention and assistance are of paramount importance as the Christmas period approaches and especially in this precarious situation. We look forward to facilitating the work of the volunteers and contributing to the success of the collection.

85 renovated parking lots from the cooperation of the city and Dunapack Packaging Nyíregyháza
85, renovated parking lots await, those arriving at Dunapack's factory in Nyíregyháza or the kindergarten next door. The freshly renovated company made a collaboration with the local government to make the environment more comfortable.
The street is the main location of one of the important industrial areas of the city, at one end of which Dunapack's factory in Nyíregyháza is located, next to a number of serious companies. 85 brand new parking spaces on 2215 square meters await all those arriving here.
The new parking lots are perfect for the kindergarten. The orderly conditions help those who attend the nearby kindergarten.
Example of a good partnership
"(...) How good it is for the city to have such a good partner as Dunapack. It was a great cooperation: Dunapack contributed 26 million (Forint) and the city with 34 million (...) for a spatial planning and a major car park extension. Compared to the previous circumstances, this is a very different world." – said Árpád Kósa, chief of the mayor's cabinet.
Construction, which began in mid-May, was completed before the June 30 deadline. The parking lot has already been transferred and can be used.
The companies help for Nyíregyháza
"As I see it, now, even in an emergency, the companies have sided with the people of Nyíregyháza – these are often western European multinationals, and, of course, companies from Nyíregyháza. There, with a ventilator, and here, in a peace time, parking, both the business group and the municipality are trying to do something for Nyíregyháza"- said the chief of mayor's cabinet.
The number of cars increasing
Árpád Kósa added that there is also a need for new, comfortable parking spaces, and not only in the city centre, since there has been a significant increase in new car sales in recent years.The chief of mayor's cabinet said that this is yet another great example of cooperation between the municipality and the entrepreneurial sector for a common goal, from which, for example, those arriving at a kindergarten will benefit, and are confident that others will follow.
Source: www.nyiregyhaza.hu/post/85-vadonatuj-parkolo-a-dunapack-elott-mely-a-szomszedos-ovodaba-erkezoket-is-segiti-2020-07-09
Collaboration with "Magyar Ökumenikus Segélyszervezet"
Dunapack Packaging in Hungary helped with 200 paper boxes that have been sent to their aid-organization centre and will be used for transporting donations (food, clothes).
Joining forces to help in post-emergency
Dunapack Packaging in Hungary helped the work of Nemzeti Humanitárius Koordinációs Tanács and Baptista Szeretetszolgálat with 7,000 paper boxes.
"Segítünk Egymásnak" action group was the one to connect Dunapack Packaging with the charity and helped the communication.
Despite the end of the emergency, aid organizations still have a lot of new tasks to deal with; in addition to social and educational institutions, the epidemic has resulted in many people losing their jobs and the number of people in need of help has increased. The boxes make easier to deliver packages containing food, clothes and disinfectant. Some boxes will be used to transport electronic devices to students for educational purposes.
The packaging material was placed in the logistics center of the Baptist Charity Service in Pákozd, where it is taken over by the member organizations of the National Humanitarian Coorination Council. We hope that this will make this post-emergency, challenging period easier.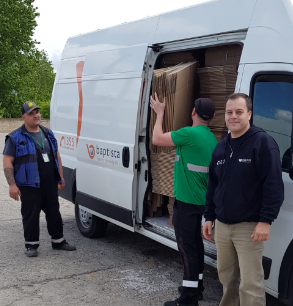 Helping with boxes for easier donation delivery
We delivered six pallets of paper boxes to the Baptist Charity Organization, Pákozd.
The epidemic situation is a particularly difficult time for aid workers, as they no longer have to help only in the social and educational sphere.
The Baptist Charity is actively involved in the collection of donations, which often includes significant logistical tasks. Our boxes make it more fluid to deliver different food packages, clothes and hygiene products to different institutions. The packaging material will be used in the logistics centre of the aid organisation's new plant in Pákozd.
Helping Szent László Hospital with boxes
We provided boxes to Szent László Hospital, to make easier to deliever various healthcare products. We are very pleased to being able to contribute the infection-free transport and movement of needles, catheters, bandages and protective equipment. We are extremely grateful for healthcare workers, so this is how we would like to support their work and say a big Thank you!
With our products for athletes
We received a sponsorship request from Piroska Nyámándi, a BSI runner ambassador and charity athlete of the Bátor Tábor, to support a charity racing event in Csepel, which donated a significant portion of its revenue from running and cycling to Bátor Tábor. We provided gifts as contents of the entry packs, including battledores and bottles for the thirsty racers, but they also received various Dunapack-branded products and office supplies. Boxes were given to the Event Organizer for the storage of race numbers, chips and drinks. Our gifts were a great success, the first three runners were rewarded from them and some also stayed for the Bátor Tábor competition held the following week. The next appearance at the First Csepel Halloween Half Marathon was the chip-timer running event on October 31st. Here, in addition to the usual distances, the half-marathon racing cups were accompanied by a pack of Dunapack, as well as the start packs and refreshments from our boxes. Rewarded sports performance makes competitors achieve better performance.