Welcome to Dunapack Packaging Bulgaria
Dunapack Packaging Plovdiv is a leading producer of corrugated board and packaging, part of the Austrian holding company PRINZHORN HOLDING. We provide high quality and innovative packaging solutions. We use state-of-the art technology and care for sustainability and our environment: Our raw materials consist mainly of recycling paper. All our products are 100% recyclable.
Our customers are leading Bulgarian and international producers, export-oriented companies and industry leaders in Bulgaria.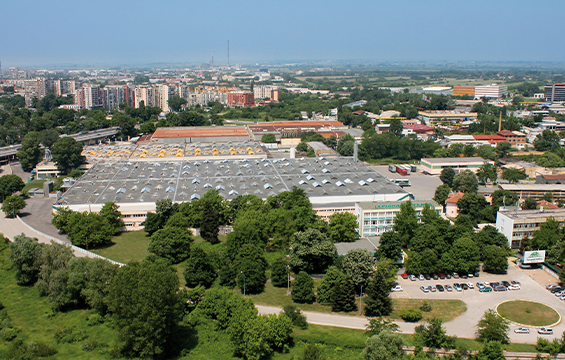 History of Dunapack Packaging Plovdiv
| | |
| --- | --- |
| 2003 to nowadays | Revival, recovery and restructuring by the most modern standards of production in Europe. |
| 2002 | Became part of the Austrian holding company PRINZHORN HOLDING. |
| 1996 | Privatization and structural changes. |
| till 1990 | The largest factory for corrugated paper and packaging on the Balkan Peninsula. |
| 1962 | Establishment of paper and packaging mill Rodina. |
BGM Jumbo Container Line 20/48
Line for production of jumbo corrugated board packaging, including octabines, with the possibility of two-color printing, the latest generation of equipment and technologies worldwide.
High-speed machine with a sheet size width of 1000 to 4800 mm with options for gluing, sewing, laying metallized tape, as well as a combination of these operations.
The industries that used this kind of packaging are: automotive, chemical, bicycle manufacturers, production of refrigerators, water heaters, heating equipment, sanitary products, furniture, etc.
In addition to the listed above industries and sectors, the capabilities and capacity of the machine are also used by fruits and vegetables producers: pallet-boxes, able to hold and preserve hundreds of kilograms of production, providing an easy and secure transport, with an appropriate display structure and two-color flexo printing.
Machine for production of flat die-cutted packaging from corrugated board for 5-colour printing with high definiition and possibility to lay on varnish cover.
A to Z flexo printing – the machine prints micro and all types of coatings on the upper layer.
Flatbed diecutting machine with 2-color printing. This line is the only in Bulgaria diecutting machine with large-format 2.10 x 1.30 m. Its innovative Power Register system enables very accurate print-to-cut register to be achieved.
Corrugator line BHS 2.5 m
Six-point folding-gluing machine for flat die-cutted corrugated packaging
3-color Converting flexo folder gluer machine MARTIN Midline 924 FFG
4-color Converting flexo folder gluer machine MARTIN Midline 924 FP
Converting flat bеd die-cutting machine BOBST 1600
Automatic Tray forming machine