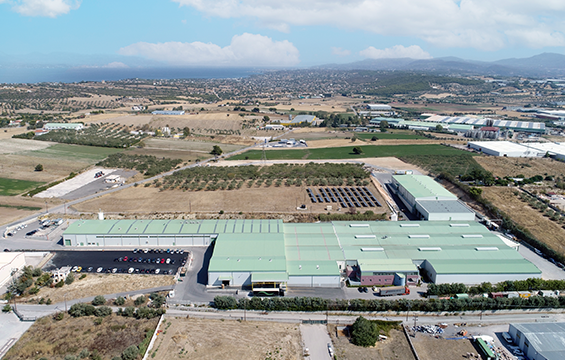 About Dunapack Packaging Hellas
Dunapack Packaging Hellas was founded in 1973 for the purpose of manufacturing packaging made of corrugated cardboard. In 1980 it was transferred to proprietary facilities in Acharnes, Attica, while since 2000 it operates in its new state-of-the-art facilities in Schimatari, Voiotias. It's one of the oldest and most traditional Greek companies in the field of corrugated cardboard products and in the design and production of carton boxes.
The company is a member of Dunapack Packaging Division of the Prinzhorn Group, which in 2016 acquired 100% of company's shares. Prinzhorn Group has over 10,000 employees, with presence in 15 countries in central and eastern Europe and it's one of the largest in the European market in recycling, paper production and packaging products.
Significant investments in equipment and know-how helped to create a sophisticated production unit with most recent the 2 investment plans that took place from 2017 until mid 2022. The implementation of the 1st investment cycle was completed at the end of the 1st half of 2018 and included the expansion of privately owned buildings, a new corrugator as well as new converting machines.
In the second half of 2020, the implementation of the second cycle of the investment plan finished and included the re-expansion of the premises, with an extension of the warehouse of finished goods and raw materials, an upgrade of the corrugator machine as well as new converting machines.
Dunapack Packaging Hellas, with experience and presence in the corrugating cardboard industry for almost 50 years, featuring state-of-the-art facilities and mechanical equipment, is currently at the forefront of the industry and with its continuous investments can produce unique products, serving the majority of its customer's packaging needs, all gathered in one of the largest packaging materials production units in Greece.
Dunapack Packaging Hellas, in order to meet the requirements of its customers and developments in the sector worldwide, continuously invests in the future both in technical equipment and in the development of its Human Resources.